Article
Bermuda's Visitor Services Centres (VSC)
On-island trip-planning resources with personal touch.
So you've arrived in Bermuda – an island that's just 21 square miles, but filled with unforgettable experiences down to the last inch. With so many things to see and do as well as food and drink options, you might need some guidance when it comes to plotting a perfect Bermuda getaway.
Think of Bermuda's Official Visitor Services Centres (BVSCs) as your one-stop shops for authoritative, personalised info on the island that will inspire and educate. The centres are also great places to browse officially branded Bermuda gear and apparel – the only places on island that you'll find these items. Among the items you'll find are t-shirts ($25) and hoodies ($40) featuring phrases you only hear in Bermuda as well as a journal emblazoned with Mark Twain's famous Bermuda quote, "You can go to heaven if you want to. I'd rather stay in Bermuda."
They also boast free WiFi. So come on in and get into the Bermuda state of mind.
CITY OF HAMILTON VISITOR SERVICES CENTRE
Where: 10 Front Street, City of Hamilton
When: Monday - Sunday 10:00am–4:00pm
Across the island visitors are never far from reliable information. Central Bermuda's newest landmark, the City of Hamilton Visitor Services Centre is a three-floor facility offers stunning views over Hamilton Harbour right next door to the Ferry Terminal.
This standout structure, built from repurposed shipping containers, is run by a friendly and knowledgeable team of Bermudian Certified Tourism Ambassadors that will arm visitors with all they need to make the most out of their Bermuda experience.
Modern technology and interactive touch screens make booking local tours and excursions easy. Guests can rely up to date information, pick up Bermuda-branded merchandise and take a break on the rooftop terrace, a meetings and event space at the heart of Bermuda's capital on Front Street.
With wheelchair ramp and elevator, it is fully accessible for families with strollers and visitors who are differently abled. 
ST. GEORGE'S VISITOR SERVICES CENTRE
Where: 25 York St., Town of St. George
When: Monday - Saturday 10:00am– 4:00pm; Closed on Sundays
Start your Bermuda explorations at the St. George's Visitor Services Centre, in the heart of the Town of St. George, a World UNESCO Heritage Site. The staff at the St. George's Visitor Services Centre knows every corner of Bermuda's East End, and can direct you to historic forts, museums, attractions, restaurants and more. You'll also be able to buy tickets for local tours here, as well as bus/ferry tickets and passes.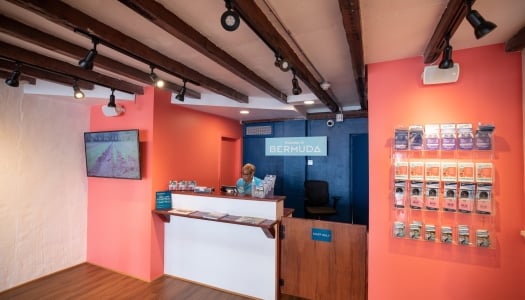 DOCKYARD VISITOR SERVICES CENTRE
Where: 2 Dockyard Terrace, Royal Naval Dockyard, Sandys
When: Monday - Saturday 8:30am - 4:00pm; Sunday 10:00am - 4:00pm
Discover new and improved offerings at the Dockyard Visitor Services Centre on Maritime lane in the north gazebo (close to the ferry and cruise docks). Here, you'll consult with friendly local Bermuda experts who will answer all your questions about the island. The goal is to get personalised insight into what you're looking to see, do and experience during your time on the island, whether this is your first or fifth time visiting.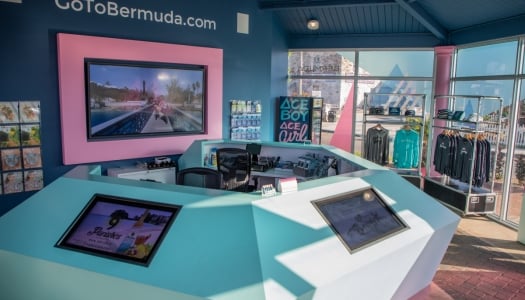 EASY-TO-USE INTERACTIVE BOOKING TOOLS
Soon, you'll have an array of Bermuda adventures to choose from – a well rounded, customised itinerary filled with excitement. The next step is to head over to the centre's interactive touchscreen monitors and book your Bermuda experience. These easy-to-use devices allow you to book each and every aspect of your chosen activities, whether it's tickets to the Bermuda Underwater Exploration Institute, an eco-tour of Tom Moore's Jungle or chartering your very own yacht. Bermuda's best is now right at your fingertips.
Note: All BVSCs are closed on Christmas Day, Boxing Day (Dec. 26) and New Year's Day, but remain open on all other public holidays.