Article
Bermuda Yacht Clubs & Marinas
Sailing to Bermuda? Familiarize yourself with the island's yacht clubs and marinas to find your ideal place to stay, refuel and restock.
People have been sailing to Bermuda for centuries. On this 21-square-mile island, all the marinas are convenient, and getting around by land or water is easy. Read on to see some of the top yacht clubs and marinas, then be sure to review tips for getting to Bermuda by private boat.
Central Bermuda
Central Bermuda is anchored by the City of Hamilton, the capital of the island. This area includes 3 parishes: Pembroke Parish, Paget Parish and Devonshire Parish.
Princess Marina at the Hamilton Princess & Beach Club – Overlooking Hamilton Harbour, the Hamilton Princess & Beach Club is known as the "Grand Dame of Bermuda." The recently renovated hotel was originally opened in 1885. Its new 60-berth Princess Marina hosts a wide range of vessels, from 30-foot pleasure boats to superyachts spanning 600 feet. The full-service hotel marina offers integrated pump-out facilities, custom-metered electric service, water distribution and plenty of other frills: gourmet catering, high-speed internet access, cable TV and more. You can get island insight from the marina concierge, order room service or schedule an on-board massage.
Royal Bermuda Yacht Club (RBYC) – Established in 1844, the Royal Bermuda Yacht Club acquired its Royal Charter in 1846, making the RBYC the 20th Royal Yacht Club in the world and one of the oldest in the Western Hemsiphere. Its clubhouse is home to many trophies, models, photographs and paintings holding some of the richest maritime history of the Atlantic. The Marina has 130 berths and can also accommodate yachts up to 150 feet. RBYC is a full-service facility offering docking services, electricity, running water, laundry and shower facilities, free Wi-Fi, food and beverage, a full catering service and access to its restaurant and bar on a picturesque terrace. Located in the City of Hamilton overlooking the Hamilton Harbour, the Club is located off Front Street where there are plenty of dining, entertainment and shopping options. The nearby Hamilton Ferry Terminal provides easy access to Royal Naval Dockyard and the Town of St. George. 
Royal Hamilton Amateur Dinghy Club (RHADC) – The Royal Hamilton Amateur Dinghy Club is another staple of the island's maritime history, dating back to 1882. The marina clubhouse features an informal bar, cosy members bar, private meeting space and the full-service Top of the Harbour Dining Room. The westward-facing clubhouse and patio offer amazing sunset views. Guests enjoy regular events such as afternoon tea and happy hour, along with a full slate of sailing programmes. The RHADC welcomes visiting boats in its marina.
East End
The Town of St. George and L.F. Wade International Airport are key points of interest on Bermuda's East End. This area includes 3 parishes: St. George's Parish, Hamilton Parish and Smith's Parish.
Captain Smokes Marina – It's a five-minute stroll from the historic Town of St. George to Captain Smokes Marina, where sailors can enjoy Mediterranean-style mooring with ample amenities. Located just west of the St. George's ferry dock, the well-maintained marina offers fresh water, bathrooms, showers, electricity (110- and 220-volt) and Internet access, and a hardware store and boat repair services are conveniently found nearby. The grounds feature barbecue grills and plenty of spots for picnicking.  
West End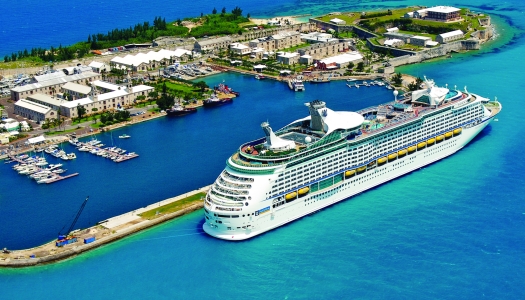 The bustling Royal Naval Dockyard makes its home on Bermuda's West End, which is also the island's primary cruise ship port. 
Pier 41 Marina – Located in the Royal Naval Dockyard's North Camber, the Pier 41 Marina offers berthing for ships up to 115 feet. The facility features secured gate access and a resident dockmaster. Expect shore power, potable water, fuel and pump-out service (by truck), as well as private bathroom, shower and laundry facilities. Wi-Fi access is available for purchase. Restock at the Dockshop Minimart & Chandlery, and book diving, snorkelling or water sports excursions at the Watersports Centre. Historic sites, shopping and restaurants are all within walking distance. Top golf courses and pink-sand beaches are about 20 minutes away by bus or taxi, and the City of Hamilton is about 20 minutes by fast ferry or tender.
Caroline Bay Marina – The newly completed Caroline Bay Marina caters to luxury yachts with more than 2,300 linear feet of pristine dock space, accommodating about 30 yachts over 100 feet in length, plus approximately 80 berths for superyacht tenders and smaller vessels. Yachters get full dock support and assistance with security, customs clearance, provisioning and telecommunications. Additional perks include a full-service concierge team.
Island-Wide
Bermuda Yacht Services – Beyond providing simple or custom berthing and mooring assistance island-wide, Bermuda Yacht Services can fulfill just about every sailing need imaginable. In addition to a range of technical marine services, they also offer assistance with pre-clearance information, visas, guest and crew transfers, delivery/courier services, fueling and provisions. Their personal concierge can assist with restaurant reservations, leisure activities, local cellphone services and more.