List
Hamilton Street Art Tour Murals Bring Bermuda Colours To Life
Stroll through Bermuda's cosmopolitan capital, the City of Hamilton, for a vibrant glimpse into the island's culture.
The island may be famous for its pastel-coloured buildings set against a brilliant backdrop of turquoise sea, but Bermuda's cityscapes are increasingly renown for something else: brilliant street murals. Go for a walk in the City of Hamilton, and you'll encounter a bevy of brightly coloured street art created by artists inspired by Bermuda's unique version of island life. Be ready to snap tons of photos of these top Hamilton murals.
Beyond the Beach,
Local Hotspots
Created by artist Manuel Palacio and volunteers from the Economic Empowerment Zones Agency. Pictured on the mural, from the left, are: Clyde Best, David Bascome, Shaun Goater, Nahki Wells and Kyle Lightbourne.
1. "POSTCARD" BY VICTOR VING, 7 CHURCH STREET
Commissioned by the Hamilton Princess & Beach Club in 2019, this mural on the side of the Dorchester House pays tribute to vintage postcards. Depicted within the massive block letters that spell "BERMUDA" are island icons, including Tobacco Bay, Bermudian architecture, a moongate and a Bermuda longtail.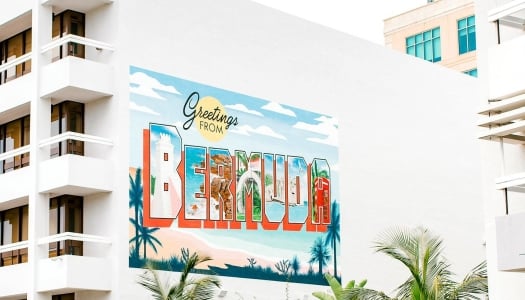 2. "CHILDREN PLAYING" BY TAI-QUAN OTTLEY, PAR-LA-VILLE CAR PARK, CHURCH STREET
This 15-foot-long mural features the silhouettes of children playing on the beach under a colourful island sky, and it has a message. Artist Tai-Quan Ottley says he hopes it will inspire kids to put down their devices, get outdoors and play. He also hopes it invokes fond outdoor memories for the adults who see it.
3. "NOURISH YOUR SOUL" BY ROBYN HOOPER, DAYLESFORD THEATRE, DUNDONALD STREET
If you want to earn your wings, head over to this collection of three pairs of large, pink angel wings set against a bold blue backdrop. Each pair sits at a different height, so art lovers of all sizes can show off their wings for the 'gram.
4. GOMBEYS BY ALSHANTÉ FOGGO, TILLS HILL
The kaleidoscopic dress and lively choreography of Bermuda's traditional Gombey dancers are an ideal vehicle for Alshanté Foggo's passion for depicting movement and expression. Each of the three panels that make up this mural features a vibrant dancer before a bright-blue sky.
5. "THE FUTURE IS IN OUR HANDS" BY CHARMAINE FRIDAY, VICTORIA STREET
The artist, who happens to be Alshanté Foggo's mother, uses vivid colour and whimsical imagery to convey a message about working to preserve Bermudian culture for future generations. Island icons from the Bermuda longtail to Easter kites literally rest in large, colourful hands.
6. GOMBEY PORTRAIT BY APRIL BRANCO, ELLIOTT STREET
In historic North Hamilton, this mural inspires those who see it to consider the men behind the elaborate Gombey masks. By depicting real Gombey dancers without their masks, the mural also aims to get people to think about the roles of Black men in Bermudian society.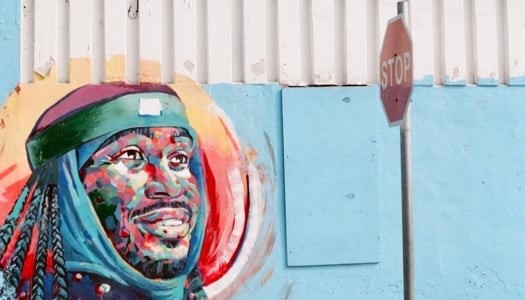 7. CHANCERY LANE BY THE CHEWSTICK FOUNDATION
As if the whimsical hanging lights and brick pavers weren't inviting enough, the stairway to this narrow avenue filled with shops and cafés features poetry emblazoned on the face of each step. After dark, when the stairs are lit by the Edison bulbs that hang above, Chancery Lane is particularly enchanting.
8. MOONGATE BY KENDRA EARL & DENNIS JOAQUIN, FRONT STREET
What was once the plain wall of a public restroom now features verdant Bermudian foliage as well as an image of a traditional moongate, the mysterious structures through which newlyweds are invited to step for good luck. Seen from Front Street, the moongate appears to lead out to Hamilton Harbour. Bonus: walk around back to uncover another iconic mural featuring a larger than life Bermuda flag.
9. CHURCH STREET TAXI STAND
Out here, hailing a cab needn't be a mundane affair. This series of walls along Church Street celebrates what makes Bermuda unique and special, from its wildlife to its centuries-long love affair with sailing to its warm, welcoming culture.