List
7 Island Event Themes Make Splash
Creative touches and genuine island details have a big impact when it comes to event planning. Give your event the edge with these prime ideas sourced from some of Bermuda's top event planners. 
Whether you're planning an elegant Bermuda wedding or a laid-back networking session, let these event themes inspire you.
Nautical Allure
Bermuda is steeped in nautical heritage – after all, it's the birthplace of the Bermuda rig (the most commonly used mast-and-rigging in modern history) and the Bermuda sloop. Bermuda successfully hosted the prestigious 35th America's Cup, presented by Louis Vuitton in 2017.
A sophisticated event on Hamilton Harbour, the centre of the island's sailing scene, invites attendees to experience the maritime lifestyle. Consider a venue with a view of bobbing boats in the harbour at spots like the Newstead Belmont Hills Golf Resort & Spa or the Hamilton Princess & Beach Club. The Harbourfront Restaurant @ BUEI, which was awarded The Bermudian's Product and Service Award 2014 for Best Offsite Meeting Facility, offers waterside dining or cocktails on the Dock (60 guests seated) and the Terrace (30 people).
For a waterfront event, the event planning company Dasfete used nautical décor (think candles wrapped in nautical charts and mini sailboat centerpieces) and a variety of seafood (raw oysters, clams and sushi) to carry out the watery theme.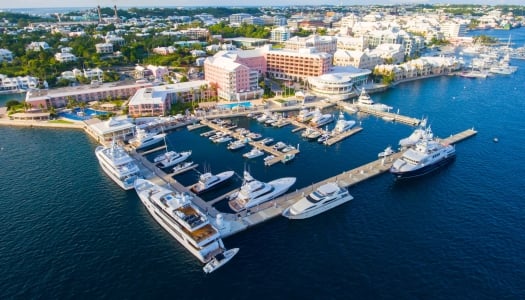 Cultural Immersion, Bermuda-Style
Bermuda's rich cultural traditions can fuel memorable moments. Host an island-style meeting or party at a historic space like the National Museum of Bermuda (imagine attendees mingling amid shipwreck artefacts) or at the circa-1870 Fort Hamilton with its cannons and ramparts. In the Town of St. George, the romantic stone ruins of the Unfinished Church are popular for weddings but also suit events and parties.
Entertainment could include steel pan drummers, any of the island's many talented musicians or Gombey dancers, known for performances that are awash in colour and rhythm. Multi-hued flowers and table linens that mimic Bermuda's pastel cottages could further the theme.
On the menu for an island bash? Local seafood dishes like Bermuda fish chowder and Pawpaw casserole (powered by a green fruit grown on the island), all washed down with signature rum drinks like the Dark 'n Stormy®, a Bermuda original. And if you come between the months of September and March, enjoy a succulent spiny lobster.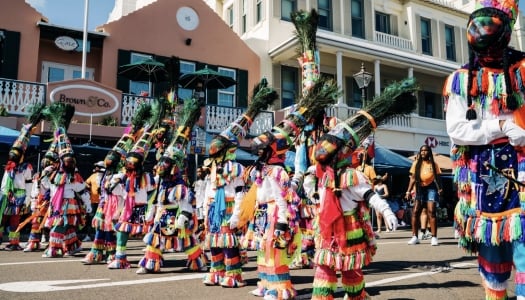 Beachfront Bliss
The island's stellar beaches make for inspiring venues. Events can be held on the rock-studded beach at Stonehole Bay and at the secluded Turtle Cove at Cambridge Beaches Resort & Spa, you can host a beach barbecue beside the surf of Mangrove Bay. The beach and its barefoot vibe are an ideal spot for casual networking events.
On the shore, many planners let the water and sand take the starring role. But riffs on the surroundings might include centerpieces incorporating both shells and flowers or lighthouse-shaped lanterns.
Menus can take cues from the surf, too, with local seafood figuring into sea-to-table dishes. For produce, many planners rely on Wadson's Farm for fresh vegetables and other farm-to-table cuisine. Beach barbecues are also a tasty option. And of course, you'll want to toast the event with sunset cocktails.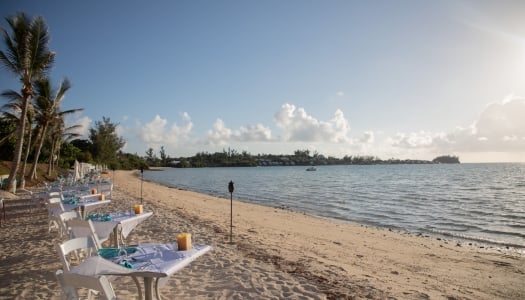 Bermuda's Good Nature
Increasingly, attendees want to enjoy a meeting or event without wrecking their exercise regimes or healthy eating plans. A wellness-themed event can take advantage of Bermuda venues and resources. At Grotto Bay Beach Resort & Spa, you can host a small luncheon on an over-water pergola or invite several dozen guests for yoga on the private beach. At Rosewood Bermuda the pink-sand powdered Beach Club can be rented for events of multiple different sizes, from a small meeting to a large cocktail reception.
Menus with a wellness spin could include vegetarian, vegan and organic options. Mocktails and juices using Bermuda's botanicals could stand in for wine and cocktails. Mixologist Stefan Gitscner of Twisted Spoon is deft at creating his own tinctures and bitters using wild grown herbs. Vegan chef Doreen Williams James uses foraged edible plants and flowers in her sugar-free desserts.
Décor with an eco-conscious, natural spin might feature sustainable greenery or locally grown blooms. For a fundraiser for coral reefs, one planner used wee cacti in simple pots as centerpieces.
Healthy activities could include eco tours of Bermuda caves and parks, or Yoga Bermuda classes taught on a private beach.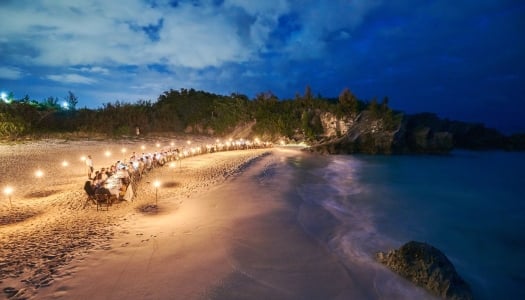 Competitive Spirits
Attendees can bond over friendly competition or sporting activities with only-in-Bermuda flair. For example, event-planning company Select Sites Group can set up a "Cricket 101" session with local players in full gear who can teach the game and give tips. Or, make the action more interactive with a game of croquet – the Coral Beach Club offers a lawn dedicated to the pastime. Other spirited contests for team-building events might include limbo contests on the beach (with limbo performers showing off technique), a friendly, sailing regatta put on by the Royal Bermuda Yacht Club, and learning to dance with Bermuda's famous Gombeys.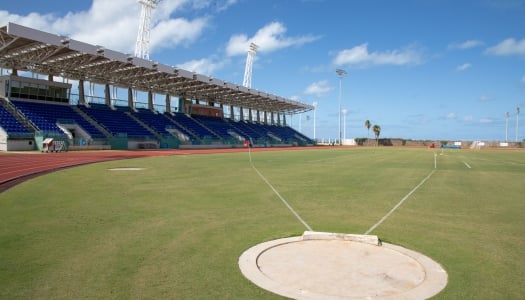 Local Flavours
Send guests home with rare island keepsakes. Pots of local honey have a distinct flavour brought on by the resident bees' love of the widespread Brazil pepper trees. Capture wild Bermuda in a jar with loquat and Surinam cherry preserves. Locally-made hot sauces will spice up your wedding favours. And the Bermuda Candle Company makes miniature votives that evoke Bermuda such as the fresh linen scent of Bermuda Shorts and the fresh mineral quality of Horseshoe Bay.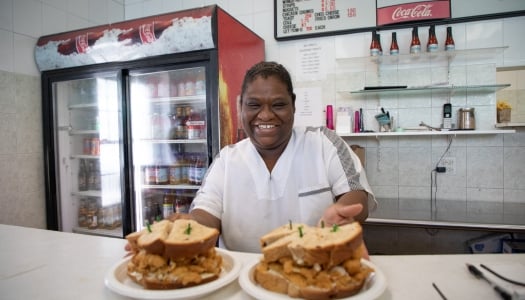 Network Remotely
While one country, Bermuda is actually made up of 171 islands. Take your guests to uncharted territory and claim your own piece of the rock with an exclusive private island hire. A rare hideaway in the Great Sound, the 25-acre Hawkins Island offers lush woodland reserve and a private beach. The Main Villa and Guard House sleep up to 16; the modern design, complete with rooftop entertaining space, lends itself to reunions, wedding parties and corporate events for up to 200 guests. A dedicated concierge and access to water transport are available to all clients. Its smaller sister property, Island House on Long Island, can accommodate 150 and overlooks Paradise Lake and the Great Sound, ideal for seated dinner receptions.