List
The 6 Best Places To Get Fish Sandwiches in Bermuda
In Bermuda, the fish sandwich is a national obsession. Finding the island's best fish sandwich is a tough job, but doing the research is delicious. Here are four standouts to try.
Food,
Local Hotspots,
Travel Tips
From local dives to fine dining bistros, the fish sandwich is a perennial menu staple in Bermuda's restaurants.
The basic recipe is usually the same island-wide: deep-fried fillets of fish with tartar sauce piled on raisin bread or whole-wheat toast. Usual add-ons ("the works") include lettuce, tomato, grilled Bermuda onions, cheese, hot sauce and coleslaw. But each eatery has its own spin on this local favourite.
1. THE HEAVYWEIGHT CHAMPION: ART MEL'S SPICY DICY
The fish sandwich at Art Mel's Spicy Dicy doesn't just have fans – it has disciples. One blogger had a near-religious experience while eating what he called "the best fried fish sandwich on earth."
Strong words, but that's just the kind of enthusiasm Art Mel's regularly inspires. Ask a local for directions as this off-the-beaten-path location in the City of Hamilton can be tricky to find, but well worth the cab ride to this hidden gem.
Their beloved sandwich's fresh snapper is flash-fried in soybean oil, making for an incredibly light, not-greasy outer layer. The sandwich is massive so consider sharing.
"This is the biggest and best fried fish sandwich I have ever had," raved celebrity chef Marcus Samuelsson. "And with cheese and coleslaw and a ginger beer, it is perfection." Sounds like Art Mel's has found yet another disciple.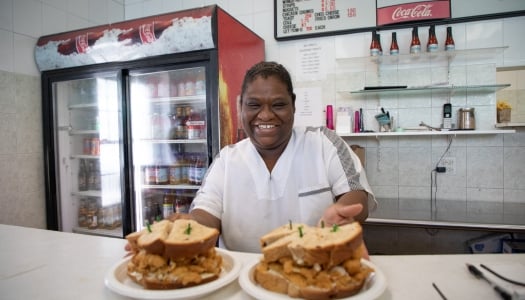 2. CATCH OF THE DAY: SEASIDE GRILL
Located on Bermuda's North Shore, Seaside Grill specialises in seafood, including some supersized fish sandwiches.
If your fish tastes especially fresh, there's a good reason: owner Tonka Simpson may have caught it that very morning – he also happens to run a fishing business. Feeling famished, but don't want to make the trek? Seaside will also deliver, with no minimum order. Fish sandwich nirvana is just a phone call away.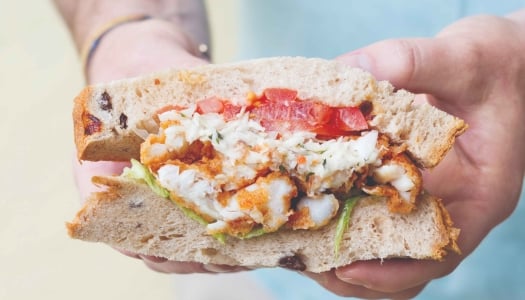 3. ISLAND SWAGGER: THE SWIZZLE INN
One of Bermuda's most popular pubs, the Swizzle Inn is famous for its powerful version of the island's signature cocktail, the Rum Swizzle. But they make a mean fish sandwich, too. You have three options – no matter which you choose, wash it down with a Swizzle for the full experience.
Bailey's Bay Fish Sandwich: The original! The fish is grilled golden brown and topped with tomato, melted cheddar and tartar sauce. This is a huge sandwich. The Swizzle Inn's motto, "Swizzle Inn, Swagger Out", refers to the Rum Swizzle, but it could easily apply to how full you'll feel after enjoying this one.
Back O'Town Fish Sandwich: Seasoned fish is piled on a bun with shredded lettuce, tomato, spicy slaw and tartar sauce.
The Sea Breeze Fish Sandwich: This is a simpler and healthier take, with the fresh fillet lightly seasoned and grilled with a squeeze of lemon. It's served on multigrain bread with lettuce, tomato and tartar sauce on the side.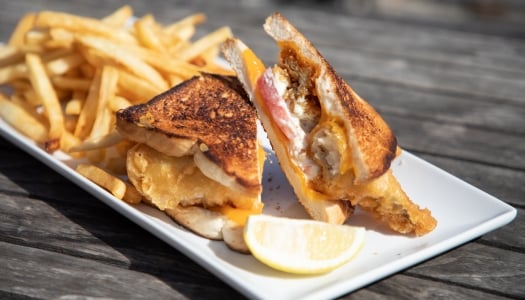 4. THE CLASSIC: WOODY'S
Perfectly fried snapper, wahoo or grouper. Exquisitely seasoned batter. Totally tangy tartar sauce. Scintillating hot sauce. What more do you need? Woody's fish sandwich is a no-frills classic through and through. Dig in and bliss out.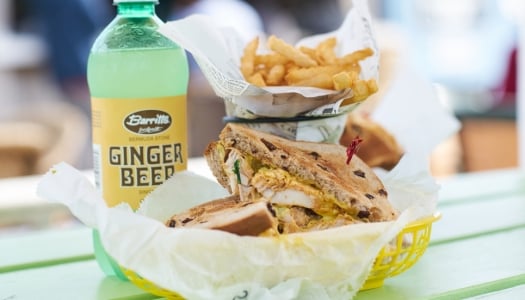 5. LOCAL FAVOURITE: MAMA ANGIE'S
Located in historic St. George's, Mama Angie's is a must-visit on your fish sandwich odyssey. Made with fresh Bermuda fish, the sandwiches here are divinely flavourful and flakey. Dine in at one of the tables or order take out for an affordable lunch out on the Town.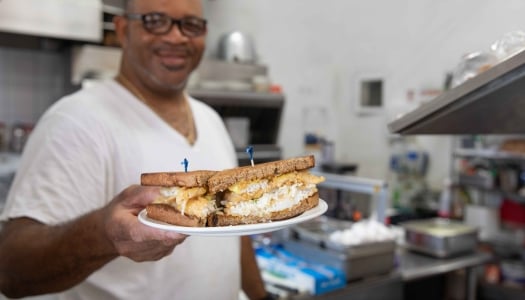 6. HOMESTYLE COOKIN': GRANNIE'S
Grannie's is a family-run, roadside café specializing in home cooking, located on the North Shore in Pembroke. While there is not much around this location, many visitors find themselves there after a recommendation from a local who sent them to try the fish sandwich or the traditional Sunday codfish breakfast.  
 
Using locally caught fish, homemade tartar sauce and homemade bread, this fish sandwich is everything you want it to be – fresh, lemony, salty and sweet!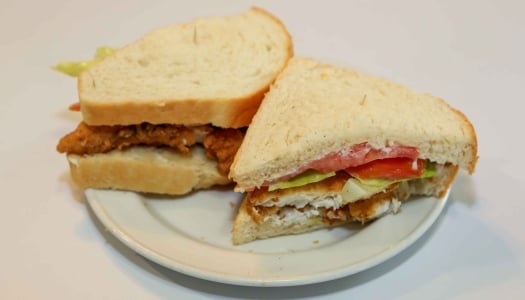 7. BONUS: LOST IN THE TRIANGLE
LITT is a casual dining restaurant that specializes in fresh seafood. Its location is handy if you want a fish sandwich after spending the day on the South Shore beaches.
 
The restaurant's owner, Delvin Bean, is a fisherman himself and has a passion for serving delicious and freshly prepared delights from the ocean. The fish sandwich is served with fresh Bermuda fish, your choice of bread (choose raisin) tartar sauce and coleslaw.