List
6 Bermuda Food Trucks You Have To Try
The street food trend is nothing new in Bermuda. From big traditional breakfasts to late night snack attacks, the diverse food truck scene is one of the island's best-kept secrets, delivering authentic flavours, friendly service and unique dishes.
1. CAN-DA-LICIOUS FOOD TRUCK & HOT DOG CART
Albuoy's Point in Hamilton is your spot for homemade Bermudian eats. The Can-Da-Licious Food Truck serves up everything from bacon cheeseburgers (veggie option available) to fish cakes to steak-ums. Their specialty, however, is hot dogs - order up a chili cheese dog, find a spot in the scenic waterside park and soak in the sights.
2. DEGRAFF'S AT CITY HALL
A favourite lunchtime option in the City of Hamilton, DeGraff's is a Bermuda institution, having served its first meal all the way back in 1939. You'll understand why it's lasted so long when you try one of DeGraff's perfectly prepared beef pies or burgers. Head over to nearby Victoria Park for a picnic. Local tip: DeGraff's is also usually open in the morning - and their traditional Bermuda breakfast is to die for.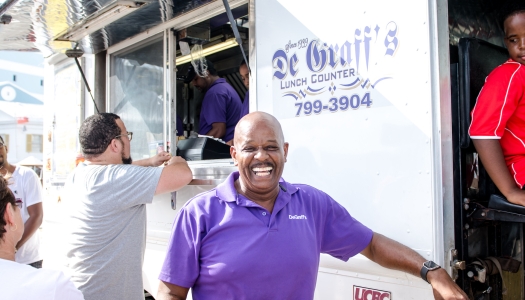 4. KEITH'S KITCHEN
Locals line up daily for Keith's! We suggest you do the same. This brilliant blue-and-white truck, usually found in Bermuda Athletic Association's parking lot, serves up breakfast and lunch. If you're looking for some genuine Bermuda cuisine, order up one of the BIG fish sandwiches, loaded with fresh ingredients.
5. WINKY DINKY DOG
Hot dogs, Bermuda-style! Located at Butterfield & Vallis parking lot every Saturday (year round), this iconic stand, has been a local favourite for over a decade. A signature item – The Winky Dinky Dog is a jumbo beef hot dog topped with Bermuda red onion, tomato and sprinkled with bacon. Perfection! But, creativity is encouraged – build your own hot dog masterpiece with toppings like WDD homemade chili (secret recipe), cheese, banana peppers, sauerkraut, pineapple salsa and so much more.
6. JOR-JAY'S ON FRONT ST.
Many a late night comes to a close at Jor-Jay's, which on weekends is open until 4am. It's just the thing after dancing and Dark 'n Stormys at one of the many nightclubs and cocktail lounges on Front Street. But whenever you hit up this classic Bermuda food truck, you'll enjoy tasty burgers, salty fries, authentic island fish cakes and more.