Article
Island Retailers That Ship Internationally
Whether you are visiting us on island or planning your next trip and looking for items to inspire, we've curated a list of merchants who offer some of our favourite things and provide international shipping.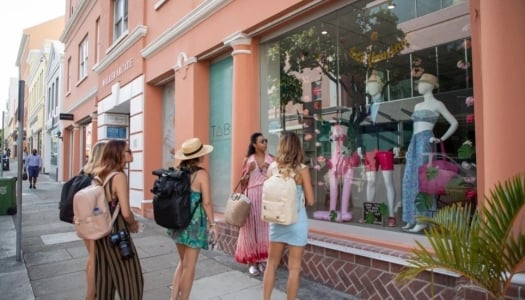 Looking for the perfect piece of jewellery or your favourite pair of Bermuda shorts? Or perhaps some island flavours to spice up your home cooking? This comprehensive collection of stores won't disappoint – order online or visit them when you're on island.  
Don't be shy, we expect a show and tell . . .  Share over your social channels your Bermuda-made or Bermuda-inspired items using #ChooseBDA and tag @Bermuda.
HAPPY SHOPPING!
ALEXANDRA MOSHER STUDIO JEWELLERY
With one-of-a-kind pieces from Alexandra Mosher Studio Jewellery, you never have to part with Bermuda's pink sands. Choose from designs that evoke Bermuda – like the Reef collection inspired by the island's boiler reefs, or the whimsical sailboats and anchors of the Nautical collection.
ASTWOOD DICKINSON
Astwood Dickinson is especially known for its own original Bermuda Collection, which is designed and manufactured on the island and captures Bermuda's culture and traditions in 18-karat gold, like stud earrings and pendants in the shapes of lionfish, conch shells, and sailboats.
BERMUDA BORN
Bermuda Born is Bermuda's only luxury leather handbag, accessory and gift brand. These timeless, resort-style accessories are created by designer Patrice Morgan who draws inspiration from Bermuda's culture and vibrant landscapes in all her designs. Bermuda Born handbags and accessories can be found in select retail boutiques in Bermuda and are exclusively sold online.
BERMUDA FUDGE CO.
Sink your teeth into a melt-in-your-mouth treat from Bermuda Fudge Co. Choose from always-available flavours like Chocolate & Nut, Chewy Praline and Mocha, as well as daily and seasonal concoctions ranging from Apple Pie to Red Velvet.
BERMUDA SCENICS
Gavin Howarth, a Bermudian photographer, has built up an impressive collection of images from all across Bermuda. Specialising in seascape scenes, he also captures the island's flora and fauna as well as an extensive portfolio of exquisite aerial imagery.  His rich, bold and unique images have received several awards and have been featured in local and overseas publications. His scenic photography can be purchased online.
CORAL COAST CLOTHING
Dress like a quintessential Bermuda gentlemen with button-down shirts, Bermuda shorts, neckties and hats from Coral Coast Clothing. Coral Coasts designs blend vibrant Bermuda hues with classic tailoring.
DANA COOPER DESIGNS
Dana Cooper is a chic summer style collection by Bermuda born Dana Cooper. Items include luxurious beach wraps, swimsuits, kaftans and scarves in luscious island colours.
DAVIDROSE STUDIO
Delicate bridal jewellery and handcrafted statement pieces are tempting reasons to visit Davidrose, a jewellery boutique in the historic Town of St. George. Known for its jewel-encrusted Bermuda Triangle-inspired designs, Davidrose also has a popular silver collection.
FLYING COLOURS
Located in the City of Hamilton, Flying Colours is the one-stop-shop for all things Bermuda; quality tee shirts, sweat shirts, souvenirs and beach gear.
INDIGO SONG
Indigo Song creates beautiful, eco-friendly wearable souvenirs featuring Bermuda imagery. All Indigo Song pieces are eco-friendly, fair trade, sustainable and non-toxic.
JON FAULKNER
Jon Faulkner Gallery is located in the Royal Naval Dockyard. Every item is handmade and most items are produced on-site in the Royal Naval Dockyard.
LILI BERMUDA
Enjoy the essence of Bermuda wherever you go with Lili Bermuda perfumes, made at their local perfumery in the Town of St. George, and also available at Lili Bermuda Boutique on Front Street in the City of Hamilton. Since 1928, the perfumery has offered fragrances made from the island's flowers. 
MERCH.
Merch is an independent boutique at the edge of King's Square that carries a carefully curated selection of local and international clothing, accessories, homewares and gifts with a focus on brands that value quality and sustainable and ethical production
OUTERBRIDGE PEPPERS LIMITED
Born of a centuries-old seafaring tradition, Outerbridge Peppers Limited was founded by Yeaton Duval Outerbridge, a 14th generation Bermudian. Since then, Outerbridge's Original has become synonymous with Bermuda Sherry Peppers. Outerbridge's Original Sherry Peppers features 17 herbs and spices and is the cornerstone of all its products; what they like to call "The Flavour and the Fire". The modest business that began over half a century ago has grown into a delicious line of gourmet products treasured by loyal fans around the world. They can be purchased at a variety of retailers in Bermuda as well as online. 
PALMETTO PORT
Celebrate the Bermudian lifestyle with these casual, fun, colourful t-shirts for adults and children designed by locals.  Also peruse through the collections of Bermuda inspired photographs in a variety of sizes – perfect for any home or office.  All prints and artwork are made to order and delivered in 2-3 weeks. Online only.
PIXIE GROTTO STUDIO
Illustrator Lyn Winford designs original pieces inspired by Bermuda. Each is created and printed on the island.
SALT SPRAY SOAP CO.
Salt Spray Soap Co. offers handmade soaps, body butters, salt scrubs, and lip balms made in Bermuda using natural ingredients.
SALTWATER JEWELLERY DESIGN
Find one-of-a-kind, handcrafted jewellery at Saltwater Jewellery Design, a boutique on Water Street in the historic Town of St. George. K The brilliantly coloured bracelets, necklaces and earrings make the perfect gift or souvenir to remind you of Bermuda.
THE AUTHENTIC BERMUDA SHORTS (TABS)
Dress like a local with your own pair of iconic Bermuda shorts from TABS (The Authentic Bermuda Shorts). TABS are made from fine cotton twill, and are available in a spectrum of island-inspired colours. The shorts come in men's and women's cuts, and are lined with fun stripes and tropical prints.
THE BERMUDA RUM CAKE COMPANY
The Bermuda Rum Cake Company creates its moist, buttery rum cakes on-site using island rum. The cakes are wrapped in heat-sealed packaging that keeps them fresh for months, making them a great souvenir to bring home.
THE ISLAND SHOP
The Island Shop features the signature collection of Barbara Finsness's gift-ware which focuses on the beauty and colours of Bermuda. Located in Hamilton, you will find embroidered pillows, hand-towels, tableware and hand-painted ceramics featuring floral, architectural and nautical elements of the island. If you are looking for something different and a cut above the rest, this is the place to shop for your souvenirs.
UMAMI BERMUDA
Rinelle Elizabeth aka "spiceoholic" believes in shaping lives and bringing people together over delicious meals with her natural spices. Her spice blends and rubs are freshly ground and range from simple salts to exotic combinations like the Tandori Twist. All her spices are made to order, and packaged in either 100% biodegradable cellophane bags or recyclable glass jars.  Ordering is simple by visiting umamibermuda.com.