Article
Getting Married in Bermuda: What You Need to Know
You've got your better half, your wedding attire and, of course, the perfect destination. Here's everything else you need to know to get married in Bermuda.
Ready to tie the knot on the most magical island in the Atlantic? Getting married in Bermuda is really quite simple. Here are three easy steps you need to take in order to meet the island's wedding requirements.
Step 1
Complete a Notice of Intended Marriage
You'll need to file paperwork to get your marriage legally recognized.
Download the Form
Download a Notice of Intended Marriage form or request one from the Bermuda Government's Registrar General's office by calling +1 (441) 297-7709 or +1 (441) 297-7707, or visiting visit their website.
If you download the form, please be aware that it must be printed on white, legal-size paper (8.5" x 14") to be accepted.
Pay the Fee
You're required to fill out the form and mail it back to the Registrar General along with a cashier's cheque or bank draft made payable to the Accountant General, Hamilton, Bermuda, in the amount of $418 USD (includes certificate). Copies of final divorce decrees or death certificates, if applicable, must also be included.
Mail the Application
Address your application to:
Registrar General
Government Administration Building
30 Parliament Street
Hamilton HM 12, Bermuda
This submitted notice will result in a wedding license valid for three months. You or a designated person may pick up this license at the Registrar office.
Step 2
Choose a Wedding Location
Your many options fall into two broad categories: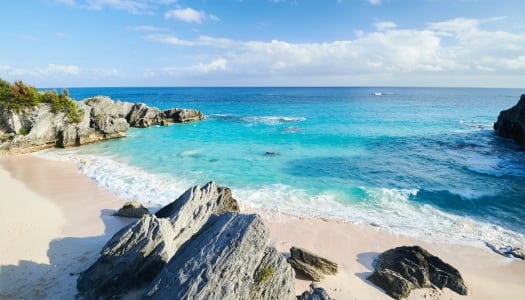 Civil ceremonies can be performed in the Registry General's Marriage Room or in one these picturesque Bermuda locations: Admiralty House Park, The Arboretum, Astwood Park, Blue Hole Hill Park, Botanical Gardens, Chaplin Bay Beach, Church Bay Beach, Clocktower Mall Dockyard, Devonshire Bay Park, Elbow Beach (the public beach as accessed from Tribe Road 4B Paget), Ferry Point Park, Fort St. Catherine Beach, Great Head Park, Gibbs Hill Lighthouse Park, Horseshoe Bay Beach, Jobson's Cove Beach, John Smith's Bay Beach,Scaur Hill Fort Park, Shelly Bay Beach, Somerset Long Bay Beach, Spanish Point Park, Stonehole Bay, St. David's Lighthouse Park, Tobacco Bay Beach, Victualling Yard – Dockyard, and Warwick Long Bay Beach. For more information call +1 441-297-7709 or +1 441-297-7707 or email

[email protected]

.
If you and your partner are looking to get married in the presence of the Registrar, or any of the locations listed above you must submit a fee of $450 (BMD) to the Registry General, at least 14 days prior to the proposed date of marriage. The fee of $450 (BMD) is in addition to the fee of $418 (BMD) which is required to be submitted with the Notice of Intended Marriage Application form. (For more information on fees associated with civil marriage ceremonies please visit: https://www.gov.bm/content/apply-marriage-licence.)
In addition the onus is on the parties to be wed, to obtain written permission from the owner or occupier of the venue (e.g. WEDCO or Ministry of Public Works) and notify the Registrar accordingly of the date.
The time will be confirmed by Registry General staff. In addition parties are responsible for arranging the logistics of set-up and any other features related to the wedding. The Registry General Office will only be responsible for providing a table, chair and relevant documents for signature.
In the event of inclement weather, prohibiting an outdoor wedding, the alternate venue for the marriage will be the Registry General. In such cases, the marriage ceremony fee will be reduced to $245 (BMD) which is the fee applicable to marriages conducted within the Registry General.
Church ceremonies: May be held in a church or other location with the consent of a member of the clergy.
Be sure to see Bermuda's top wedding venues for inspiration, and check out our pool of talented wedding suppliers.
Step 3
Find an Officiant & Two Witnesses
Marriages may only be performed by a registered Marriage Officer (clergy), the Registrar General or an Assistant Registrar General. The Registrar General/Assistant Registrar General can only perform a wedding at the Registry itself.
If you're having an off-site ceremony, you'll need to hire a clergy member – your wedding consultant can help with that. You'll also need two witnesses over 18 years of age present at the ceremony. Go to the Registrar General's website for more details. The Registrar will happily supply witnesses at your request (Monday through Friday only).
See the latest Bermuda Government guidelines for weddings and other gatherings, including attendance limits, distancing rules and more.