Article
Insider Tips: Fashionista Shiona Turini On Bermudas Beauty Style
With a veritable who's-who of the fashion world on her CV, style consultant and Bermuda native Shiona Turini knows a thing or two about island style. Here, she shares what she finds most beautiful about Bermuda.
Bermuda is a wellspring for creative types, and when you look around the island, it's easy to see why. Shiona Turini has worked with the likes of New York Magazine, Amazon Fashion and Christian Dior – she also happens to be a Bermuda native.
Q: WHAT DO YOU LOVE ABOUT BERMUDA?
A: I'm not biased; Bermuda is the most beautiful, magical place on earth. It's hard to choose one thing I love about Bermuda. It may be small, but it's jam-packed with beauty and culture.
As a visual person, I fall in love with the scenery every time I come home – it's super lush and incredibly vibrant, so it's almost impossible to find a location with a bad view. As soon as I step off the plane, I can literally smell the salt water ocean. It's one of my favourite experiences.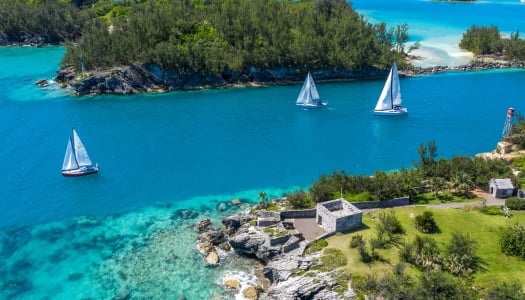 Wherever you are, the ocean or beach is only three minutes away, max. 
And, wherever you are, the ocean or beach is only three minutes away, max. On any given day, you can experience the bluest water you've ever seen. Most of all, I love that while the island is elegant and elevated, the small community gives it the perfect welcoming charm.
Q: WHAT'S YOUR FAVOURITE BERMUDIAN DISH?
A: Codfish and potato, of course! I eat it in a very Bermudian way – mashed up with egg sauce and tomato sauce, and avocado on the side.
Q: WHAT WOULD BE A DAY (AND NIGHT) THAT EXEMPLIFIES BERMUDIAN CULTURE AND STYLE?
A: I have the most fun on the water. Sundays in the summer become an all-day boat party. Everyone is friends on the water, and it's normal to raft up next to complete strangers but feel like you're family. Rafting up with cocktails, food and listening to reggae is a true Bermudian summer tradition.