Article
Getting Around Bermuda: Group Transportation Options
You've got the group all the way out here, now how to get them around?
Long, slim and shaped like a fish hook, Bermuda is a manageable 21 square miles. Easy (and safe) to navigate, most points of interest are within a 20-minute journey. But moving a large group can be a challenge in even the smallest of arenas. Your Event Planners and Destination Management Company can help coordinate a mode of transportation that suits you best.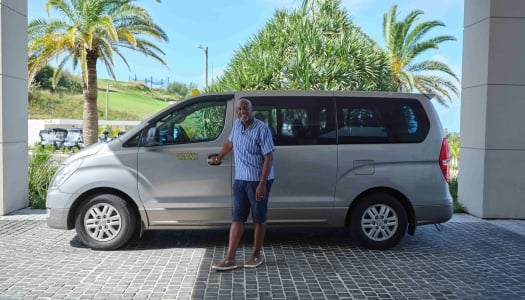 Getting around the island by road is a breeze, while waterways are great for enjoying the views and often more efficient.
The island has a variety of minibuses for rent. Bermuda Transit Services are National Service Standards certified, a programme that demonstrates their commitment to delivering consistently good customer service. The family owned and operated company offers island-wide tours, beach shuttles, airport transfers and transportation for special events with flexible hours that meet the needs of their clients. All drivers are Certified Tourism and Blue Flag Ambassadors.
Island Express Mini Bus is a reliable company offering a range of services, including airport transfers and transportation for weddings, corporate or sporting events. They also specialise in tailormade island-wide sightseeing tours that can cover attractions and shopping in the capital city of Hamilton – your tour; your choice. The fully air-conditioned buses can accommodate small or large groups.
As well as transportation and beach tours, Adventure Transport offers bicycle tours and limousine services. Their fleet includes 27-seater and 14-seater modern minibuses with exceptional comfort.
Sometimes it's just as much about the journey as the destination. Both fun and functional, party buses are a great way to entertain your guests as they hop around the island. Cool Run-Ins operates a comfortable 20-seat minibus to the best locations from pink sand beaches, natural caves, cliff jumping spots and to catch stunning aerial views from Gibbs Hill Lighthouse all with onboard coolers, great personality and a music soundtrack to match.  
For larger groups, Titan Express  has a fleet of four buses that hold up to 24 passengers and are perfect for custom group trips, day and night tours and wedding transportation. Their knowledgeable guides are all Blue Flag and Certified Tourism Ambassadors that will leave you full of special memories.
While the Bermuda Railway dug up its tracks in 1948, The Bermuda Train Company provides a fun and festive way to get around the island, giving guests a rare, charming perspective. The vintage-inspired coaches ride the roads rather than the rails and are an excellent way to celebrate birthdays, weddings and special events. Train conductors will regale with humorous stories, colourful anecdotes and historical information that gives visitors a glimpse at the island's heritage.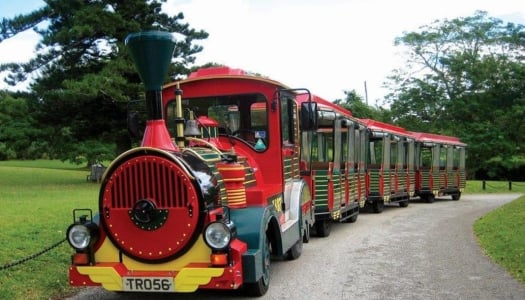 With only 21 square miles of dry land, a great way to travel from A to B is by sea. Charter a large boat to get your group between ports of call. Island Tour Centre has access to plenty of boat options from glass bottom motor cruisers to sailboats and power catamaran.
Inside Hamilton Harbour, Tam-Marina is home to three cruise boats, The Lady Tamara, Boss Lady, and The Lady Charlotte, providing locals and visitors with water-based activities, fully serviced and licensed bars stocked with premium spirits. From casual cruising to formal events, Tam-Marina can provide everything including flowers, decor and transportation.
For the utmost in comfort, charters on the Zara are a great way to get around Bermuda's stunning coastline and host an event at the same time. The 77-foot catamaran is the largest and most luxurious sailing charter yacht in Bermuda. The spacious deck areas and substantial interior and exterior lounge seating make her the perfect yacht to host an intimate group for dinner or a large cocktail cruise.