Article
Bermuda's Musicians, DJs and Performers: Seeking Entertainment For Your Island Event
A private cove surrounded framed by crystal waters and giant rock formations; a historic fortification with views over the city – you've found the perfect venue and now it's time for the details. 
Music is a way of bringing it all together. It has the power to set the tone and to move your guests from onlookers to players. From beachside bars blaring soca, a quartet of strings in an elegant estate, or a live band that moves seamlessly from reggae to rock, Bermuda's blend of worldly cultures shines through in all it has to offer. 
No one knows how to pull it all together better than Event Planners and Destination Management Companies. Groups such as Dasfete and Planning Factory can steer you in the right direction and you can browse an extensive list of the island's performers on entertainment.bm. Here is a sampling of the ways this island will rock your event:
Live music options are plenty. The Wall Street Band is a 13-strong group of seasoned musicians; The Loquats are a crowd-pleasing pop-rock ensemble; The Working Title Band is a favourite on the party scene – and with good reason – front man Lamont Robinson has spent his life in the entertainment industry and his energy has never wavered.
Devil's Isles Audio know how to crowd a dance floor. The group is known for bringing imaginative sounds and fresh energy to weddings and events. Mixing in the best of the island's vocal talent, they play all-original music from a variety of genres including their own take on Afrobeat, neo-soul, top 40s, soca, dancehall, hip-hop, reggae and alternative music. Formed in 2010, they have opened for Toni Braxton at the Bermuda Music Festival and have backed the best of Bermuda's artists including Joy T. Barnum, Rowdy Piper, Jessie Seymour, Uzi Mon and more.
Collaboration is not unusual. And the music community is happy to mix and mingle in order to bring you a sound that suits. From the powerful lungs of Joy T. Barnum to the haunting melodies of Heather Nova, soulful divas Olivia Hamilton and Sheila Smith, the classic stylings of Lloyd Holder or the smooth baritone Livewires, each one can be booked for private events.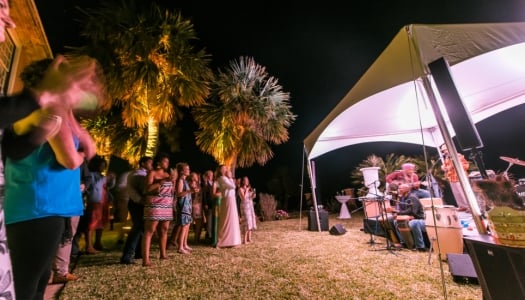 For comic, retro cool, Mike Hind has proved popular with his ukulele act. Often cheeky and ad lib, his show, under the stage moniker Uncle Elvis, is perfect for intimate events that require a laid-back sound. For a more formal entry, the elegant String Collective are beloved at weddings, turning contemporary tunes into classical harmonies. Saxophonist Mike Manders is a soloist that can easily carry a group alone. His deft horn-blowing pairs well with sea breeze and sunsets.
Inspired by the sounds of Ibiza, The Silver City Band was formed by Felix Todd, Jessie Seymour and Ben Payne to match the mellow styles with Bermuda's seaside venues. With regular residencies at The Loren and Elbow Beach's Lido Complex, they have established themselves as the leaders in cool, island entertainment, blending live music with DJ beats.
A community of music lovers, the island's DJs not only provide a fitting soundtrack, but their experience with local venues make them invaluable in the realm of acoustics and set up.  DJ Chubb prides himself on versatility; Rusty G is a young and ambitious talent behind most of the island's popular mixtapes; and D'General's personal style, a fusion of soca, soul, calypso, and pop has built the island's carnival scene.
For a true Bermuda celebration, Gombey dancers are a tradition that goes back to at least the early 1800s. A vibrant blend of African, Native American, Caribbean and British cultures, it is undeniably Bermudian. The troupes' dynamic displays use bells, whips and whistles and a drum beat that is all their own.