Itinerary
'The Bachelor' Stars Arie Luyendyk Jr. and Lauren Burnham's Bermuda Babymoon
The Bachelor alums from 2017 made headlines when they took their last trip as a twosome in Bermuda.
The expectant pair, who came in April for five days, spent the week in one of The Loren's oceanfront private villas, sharing what they described as "the most magical babymoon" before welcoming their baby girl, Alessi. They walked the South Shore, sailed Bermuda's turquoise waters, enjoyed massages in subterranean grottos and dined on nourishing island cuisine.
With a connecting flight in Miami, it was an easy route for the soon-to-be parents from their home in Phoenix, Arizona. Bermuda is three hours from Miami and less than two hours from most east coast cities.
Find your perfect getaway like Arie and Lauren by following this itinerary:
Day 1
MORNING
Wake up in The Loren's private villa. With ocean views on one side and a hill of pastel-hued homes on the other, the 3-bedroom villa, like the hotel, has a contemporary take on Bermuda's architecture with design-led details that celebrate the island's natural beauty. With a private terrace, chef's kitchen, spacious living and dining room and a private plunge pool with deck and grill area, it offers unmatched privacy. After a lazy morning, order breakfast in bed before taking a walk along Pink Beach.
LATE AFTERNOON
Piece of the Rock is a private car and limo service that offers cool, comfortable cars that get you around in style. After a 25-minute taxi ride from the hotel to the City of Hamilton, take a stroll around the city before heading to Albuoy's Point to board a private, catamaran charter. Restless Native offers completely custome and curated sailing experiences.
Day 2
MORNING
Start the day with a private or beachside yoga session in The Loren's lofty studio space. Follow with a healthy lunch at Pink Beach Club where seasonal, locally-sourced cuisine is served alongside spectacular ocean views in a breezy, casual setting.
AFTERNOON
Make lasting memories with a maternity shoot around the property and along the palm-lined beach with a local photographer. The hotel is not short on photogenic locations from the stunning infinity pool to The Disk, a circular platform overlooking the endless ocean.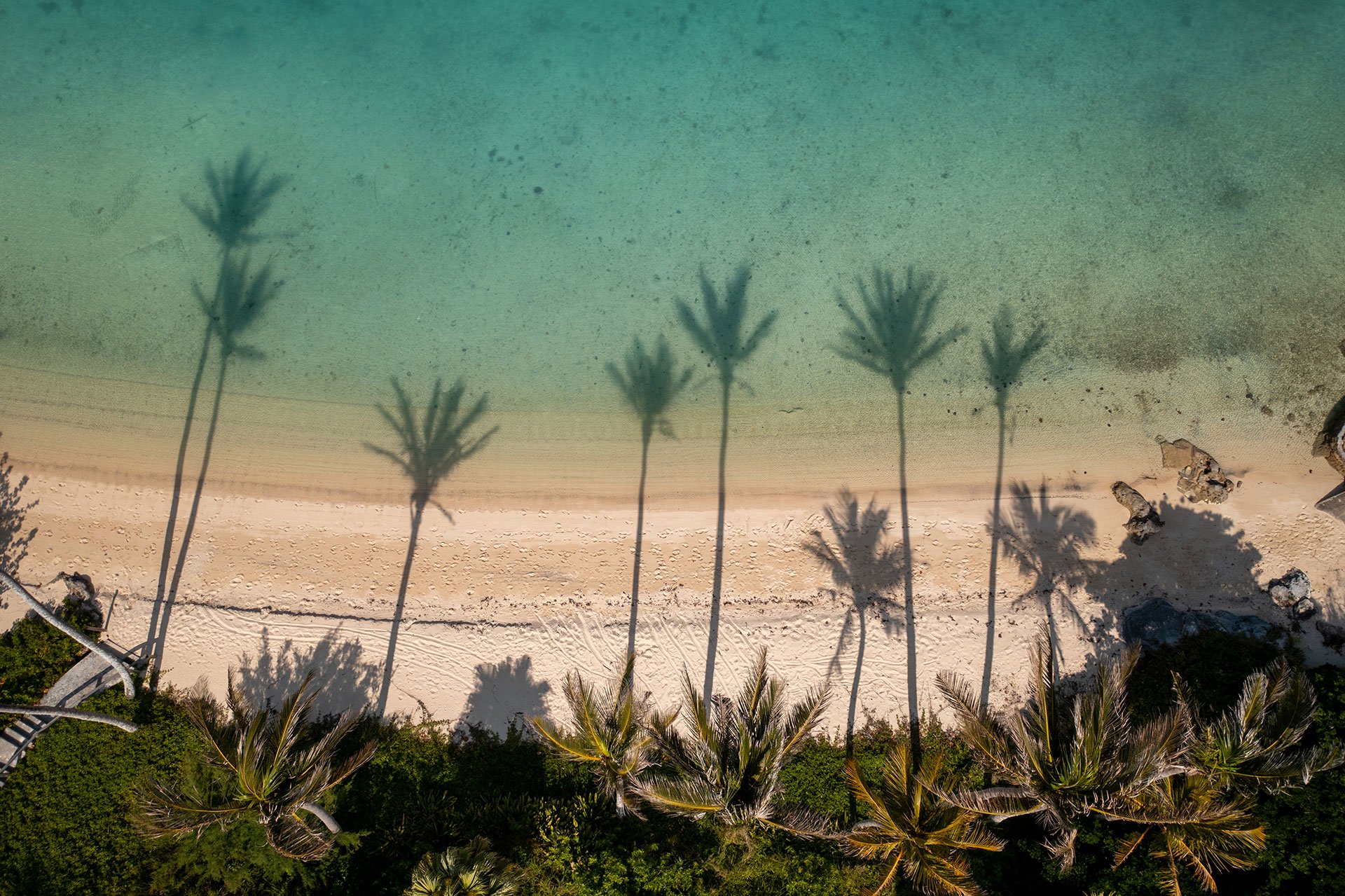 DINNER
A 20-minute taxi ride along the South Shore will have you at Mickey's, a bistro with a Mediterranean-inspired menu. Call in advance and request a private table on the sand.
Day 3
MORNING
See the famous South Shore beaches. Take a stroll from Horseshoe Bay, along the shore and sandy trails to the secluded coves that lie between there and Warwick Long Bay or cool off in the waves in the summer.
Rum Bum Beach Bar, a casual beach bar with cold drinks, comfort food and ice cream is a fun spot to relax and recharge with a frozen mocktail.
EVENING
Take a dip in the villa's private pool, order room service or even serve yourselves from your own personal grill. End the night curled up by the fireplace.
Day 4
MORNING
Descend into Fantasy and Crystal Caves, a dramatic cave system with soaring white limestone stalagmites in a lush garden lined with royal palms. A floating bridge over a crystal-clear lake reveals intricate underwater rock formations. Tours are given daily and reservations aren't required. Further east, Grotto Bay Beach Resort has two caves, one for swimming and one underground spa for a subterranean massage.
EVENING
Dine at Blu Bar & Grill – a romantic restaurant with harbour views and a varied menu that will satisfy any craving.
Day 5
MORNING
Head to Valley Road in Paget and pick up a Tazzari, a two-seater electric mini car, and ride side-by-side, exploring Bermuda as you choose. The easiest route is along South Road, Bermuda's longest street running the length of the island from Somerset to St. George's.
EVENING
Enjoy your last meal on the beach at The Loren. The concierge can arrange for a cozy table for two to enjoy a romantic dinner at sunset.