Article
How to Spend a Day Visiting Black-Owned Businesses
Bermuda's Black-owned businesses are an experience onto themselves. Local entrepreneur Danielle Paynter has helped shine the spotlight on these gems with her online retail platform called The NAB App. These imaginative boutiques and bakeries, bike shops and bookstores are NAB favs not to be missed. Pop in to connect with some of the island's most inspired entrepreneurs.
Beyond the Beach,
Local Hotspots
It all started with a vacuum. When 39-year-old Danielle Paynter wanted to buy herself a Dyson, she had no clue where to find one on the island. "I just found the whole process so frustrating," says Paynter who spent an entire weekend searching for her desired model. "I thought there had to be an easier way for people to shop locally for specific brands," she says, "but I didn't think I could create one because I didn't have any tech experience."
What she did have was an extensive background in business development, so after attending a local entrepreneurial workshop, Paynter took a leap and developed The NAB app, an online platform that connects consumers with local retailers that sell the specific brands they're searching for. An acronym for Need And Buy, the site has been a huge hit since launching in September 2019—and although it's helped many Bermuda retailers sell their wares, Paynter has specifically amplified the needs of black-owned businesses, of which there are many on the island.
Paynter has amplified the needs of black-owned businesses, of which there are many on the island.
"I want all retailers to succeed regardless of ownership," says Paynter, "but I think for black-owned businesses, the network and support has not been built in as much as it has for other racial communities—so spending on black-owned businesses, hiring black service providers and being more conscious about supporting businesses that have diverse hiring practices is more important than ever."
So what are some things you can do to support black-owned businesses? Following, tagging and liking them on social media is a good start, as is taking the time to get to know the people behind the businesses and recommending them to friends. But the most important way is to shop locally and to shop with purpose. For Paynter's complete list of black owned businesses in Bermuda visit NAB.bm—and here are five of her favourites.
PEDEGO ELECTRIC BIKES
PENNO'S WHARF, ST. GEORGE'S
Featuring a fleet of electric bicycles that generate power with a twist-and-go throttle on the handlebar or by activating a pedal assist mode that helps to propel your legs forward, Pedego Electric Bikes are the most effortless way to cruise around the island. "They've got options for the entire family," says Paynter, "and they're also very reasonably priced."
THE GRIOT
PARLIAMENT STREET, CITY OF HAMILTON
"This is an incredible store for anyone who wants to learn more about black history or the black experience," says Paynter, who recently purchased a book for her daughter there called "Not Quite Snow White" about an African American girl who dreams of one day being a princess. The Griot, which you can find in the City of Hamilton, also features woven African baskets, oils, incense and candles.
THE TUCK SHOP
MIDDLE ROAD, SOUTHAMPTON
Tucked away in a quiet residential neighborhood called Heron Bay, this eclectic gift shop sells wooden toys, natural apothecary items, unique ladies clothing and fresh baked treats like cookies, cakes and scones. "The owner seeks out small brands that all focus on craftsmanship," Paynter says. "It's a really well-curated store that I absolutely love."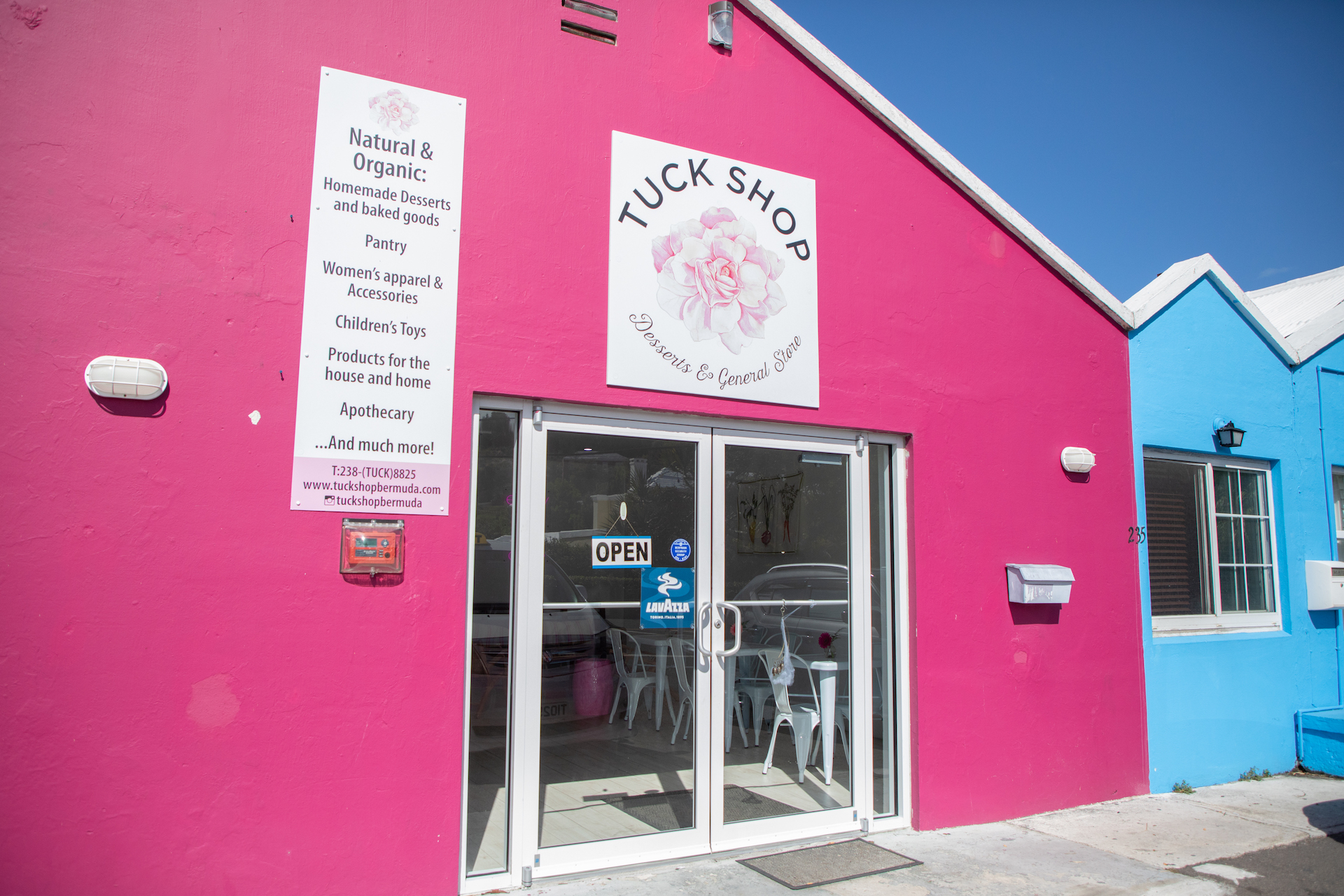 URBAN COTTAGE
FRONT STREET, CITY OF HAMILTON
"This shop is an incredible oasis," says Paynter of Urban Cottage. "It's just got all of these really cool brands and curiosities that can keep you in there for hours." In addition to ladies' apparel, keep an eye out for tea towels, pillows and textiles from Bermudian company NettleInk, featuring vintage island images in all of its designs.
Credit: David LaHuta